Equity markets fell again over the past week as markets priced in even more aggressive rate hikes from central banks following the release of stronger-than-expected US inflation data.
For the week (so far), global stocks are down around 6% and Australian stocks are down around 7%. The fall in the Australian equity market was led by IT stocks which have been under pressure throughout the year, but also by resources, retailers and financials as concerns over the economic outlook grew. The growing risk of a global recession has also led to lower prices for oil, metals and iron ore. Bond yields generally hit new highs, with Australia's 10-year bond yield exceeding 4% for the first time since 2014. While the AUD initially dipped below US$0.69, it rose back above of US$0.70 when the USD fell.
From their all-time highs last year or early this year, US stocks are now down 24%, global stocks are down 21% and Australian stocks are down 15.5%..
As always, the most speculative "assets" are the hardest hit, including pandemic gainers in tech stocks (with Nasdaq down 34%) and cryptocurrencies (with Bitcoin down 70% from at its peak last year). Cryptocurrencies have surged with semi-religious fervor around the marvels of blockchain, decentralized finance, NFTs, freedom from government, promises that it is an inflation hedge, etc., to become a bandwagon fueled by speculative extrapolation on the back of easy money and low interest rates. Trying to disentangle one's true core value from speculative mania becomes nearly impossible. And now that easy money and low rates are reversing, the rug has been cut.
We remain of the view that a global recession can be avoided, but with central banks aggressively raising rates, the risks have increased to the point where they are now close to 50/50. Either way, it's still too early to say that stocks have bottomed out..
First, the bad news:
Despite widespread expectations to the contrary, US inflation has hit a new high and other countries, including Australia (with its partly domestic electricity crisis), are also expected to see inflation higher to come. Energy prices – especially oil – have yet to reach a decisive peak and it is difficult to be sure that the worst is over for inflation until they stop rising for good. .
The Fed has now stepped up its rate hikes to 0.75%. While Fed Chairman Powell has said he doesn't expect 0.75% hikes to be "common" and the Fed to be "flexible," the Fed is now signaling (via its so-called dot plot of Fed officials' rate hike expectations) plus rates 1% higher this year and next than they were just 3 months ago and has yet to see evidence" clear and convincing" of lower inflation.
Ever-deepening Fed tightening raises the risk of a US recession with parts of its yield curve flirting with inversion (i.e. short-term rates higher than 10-year bond yields) .
While the ECB has announced measures to combat "fragmentation" (or an explosion in bond yields in countries like Italy relative to Germany, as we saw in the debt crisis of the eurozone) – with the flexible reinvestment of funds from maturing bonds and the development of a mechanism to combat the spread explosion – this really paves the way for more aggressive rate hikes from the ECB.
The Bank of England raised its key rate from 0.25% to 1.25% and now expects inflation to peak slightly above 11% this year and remain hawkish, indicating it is ready to act more forcefully if necessary, despite the forecast of a contraction in the economy this quarter.
The Swiss National Bank raised rates by an unexpected 0.5% to -0.25%. Taiwan's central bank also raised its key rate, although less than expected.
RBA Governor Lowe in a TV interview indicated that the Bank now sees inflation rising to 7%, that it will "do what is necessary" to bring it down to 2-3% and reiterated that "c is reasonable… the cash rate reaches 2.5%. %". Combined with another strong jobs report for May, it leaves the RBA on track to rise another 0.5% at its July meeting.
While the Fed's decision to hike 0.75% at its June meeting suggests a risk that the RBA will follow suit as it faces similar pressures, we believe it will stick to moves of 0.5% given that the RBA meets monthly while the Fed meets every 6 weeks, with inflation and wage pressures less strong here than in the US.
We continue to see the cash rate peak around 2.5%, but it could come sooner given the RBA's move towards a more aggressive approach.
Market expectations for the cash rate to rise to nearly 4% by the end of the year and above 4% next year still seem too hawkish.
A rise to 4% in the cash rate would push average discounted variable mortgage rates up to around 7.5% (from around 3.5% in April). Combined with soaring fixed mortgage rates (which have already risen from around 2% to around 5%), this would likely cause real problems for consumer spending, a sharp increase in mortgage stress (as interest payments on debt will more than double compared to this year) and bring down real estate prices by 20 to 30%. This indicates that this is unlikely to happen as it would cause the economy to collapse and ultimately drive inflation well below the RBA's target.
On the positive side though:
The major central banks are serious about controlling inflation and although this carries risks in the short term, given the experience of the 1970s, it is undoubtedly positive for the long term, both from an economic point of view (because high inflation is ultimately bad for productivity and unemployment) than for investment. markets.
There are more indications that the US jobs market may be starting to cool down a bit – with jobless claims on the rise and indications that wage growth may have peaked. This could ease the pressure on services inflation, which has accelerated.
Our Pipeline Inflation Indicator continues to point to a peak in US inflation. Of course, the pic process can still be messy and time-consuming.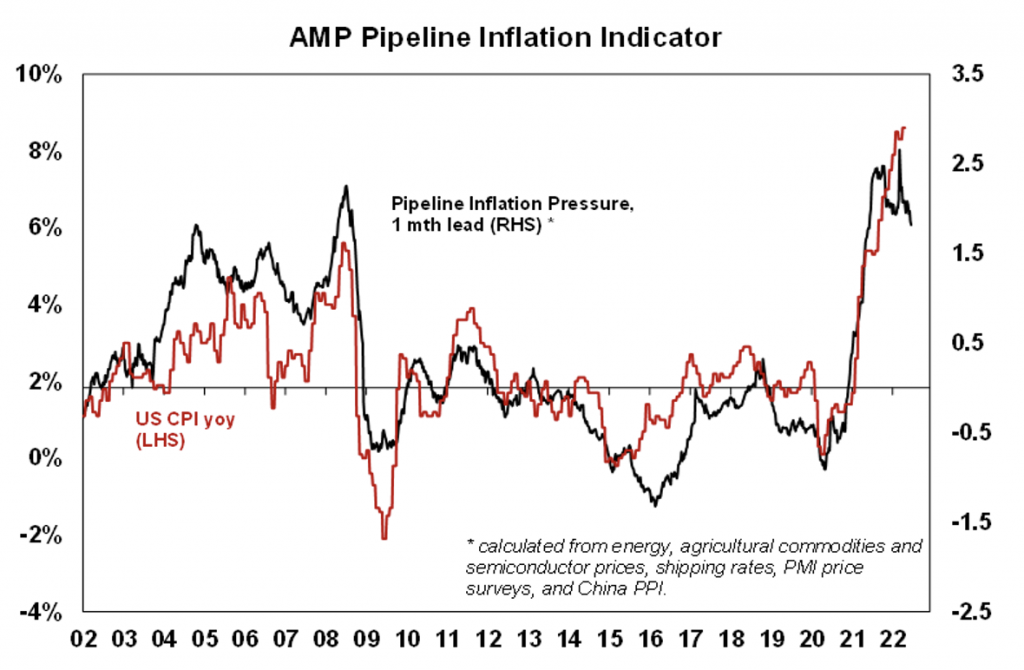 Reliable recession indicators have not yet signaled that a recession is underway – for example, the spread between the 10-year bond yield and the federal funds rate (which has always preceded recessions since 1970)n is not about to reverse yet. See the second graph of this report above. And the federal funds rate is still below nominal GDP growth. It's the same in Australia.
Some leading economic indicators, such as consumer confidence, including in Australia, are now weak, suggesting that central banks should not raise rates too much to achieve the desired slowdown in demand and hence inflation. (Of course, this also carries the risk of them miscalculating and over-tightening).
Futures price/earnings multiples have fallen sharply since the start of the year – from 22 times to 16 times in the US and from 19 times to 14 times for global and Australian equities – making equities cheaper. This is due to falling stock prices and continued rising earnings.
Signs of capitulation are increasingly evident, for example more indiscriminate equity selling, which is positive from a contrarian perspective.
While ultimately equities are likely to be higher on a 6-12 month horizon, it's still too early to be convinced that we've seen the highs for bond yields and the lows for equities. short term.
Australian minimum wages will increase by 5.2%, with awarded minimum wages increasing by 4.6% from July 1.
Given that this will directly impact approximately 22% of the workforce, it will add approximately 0.5% to wage growth over the prior year. The risk is that this comes on top of wider wage demands in the economy, hence inflation expectations and the risk of a wage-price spiral putting even more pressure on the RBA to raise wages further. rate. However, there is a danger in overstating the impact as the tight labor market – with labor market underutilization (unemployment plus underemployment) now returning to levels last seen in 1982 – suggests that wages will rise anyway, including for many of those on minimum rates.
What to watch next week?
Monetary policy in the US and Australia is expected to dominate in the coming week. Fed Chairman Powell's testimony to the US Congress (Wednesday and Thursday) is likely to be hawkish, reiterating the Fed's commitment to continue tightening until there is "clear and convincing" evidence that the inflation is down. This is unlikely to reduce market expectations for a hike in the fed funds rate to 3.5% by the end of the year and well above 4% by mid-year. next.
Similarly in Australia, the minutes of the last RBA meeting (Tuesday), a speech by RBA Governor Lowe (also Tuesday) and his participation in a roundtable (Friday) are all likely to be hawkish, reiterating the RBA's willingness to keep inflation expectations down and the commitment to bring inflation back to target. The focus will likely be on any indication as to the level to which the RBA thinks it might need to raise interest rates.
Trade conditions PMIs (Thursday) for the United States, Europe, Japan and Australia will provide guidance on the impact of global monetary tightening and supply constraints on growth prospects and price components. and cost will be monitored for further evidence of a spike.
US existing home sales data (Tuesday) is expected to fall, but new home sales (Friday) are expected to rebound.
Core inflation in Japan for May (Friday) is expected to edge up to 0.9% yoy.
The NSW state budget (Tuesday) could contain measures on housing affordability and stamp duty reform.